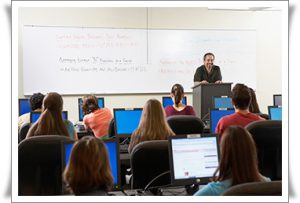 The faculty members, who hold a rich experience thereby building skills and intellect through innovative teaching methodology.
Our faculties impart education on multiple subjects including key management topics like accounting, strategic management, entrepreneurship, marketing management etc. FVC strictly maintains a teacher to student ratio that ensures quality learning through effective understanding of fundamental concepts through direct contact with the business leaders and skilled faculties.
The Board of Management lays special emphasis on the recruitment and development of its faculty members, as the faculty members act as the pillars of the institute's foundation. All the faculties at FVC have a strong educational background from top institutes.